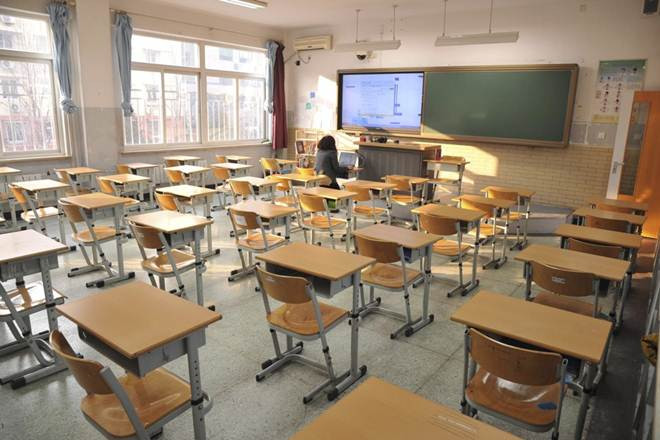 At Green City School, we recognize that education plays a crucial role in every child's life, and the classroom environment is particularly significant during their formative years. That's why we have designed our GCEMS classroom to be fully equipped with digital tools and resources that facilitate interactive and engaging learning experiences. Our goal is to create a dynamic learning environment that captures the students attention and sparks their curiosity. By using innovative teaching methods and incorporating various activities, We aim to make every class a joyous and fulfilling experience for our learners.
The classroom should be an entrance into the world, not an escape from it.
by -John Ciardi.
Experienced Faculty:
Our team of experienced and qualified teachers are dedicated and passionate in providing quality and scientific instructions, personalised attention and mentorship to our students. They bring a vast wealth of knowledge and expertise in their respective subjects and are committed to nurturing and laying the foundations of the future IITians.
Comprehensive Curriculum:
Our coaching program follows a comprehensive curriculum that covers all the essential topics and concepts required for success in the highly competitive IIT entrance examinations. We continuously update our curriculum to align with the latest exam patterns and syllabus changes.
Practice and Mock Tests:
To enhance students' problem-solving abilities and time management skills, we provide ample practice materials, including solved examples, practice questions, and mock tests. Regular assessments help students gauge their progress and identify areas for improvement.
Doubt Clearing Sessions:
For effective teaching the clarifying of doubts to the students is crucial for their effective learning. Our coaching program includes regular doubt clearing sessions where students can seek clarification on challenging topics or questions. These sessions provide personalised attention and ensure that students have a strong foundation in the subjects.
Counselling and Guidance:
We believe in providing holistic support to our students. Our experienced counsellors and mentors offer guidance on study strategies, time management, exam preparation techniques, and career pathways. We strive to empower students to make informed decisions and achieve their academic goals.
Join Us for Quality IIT Coaching Program:
We invite students aspiring to join the esteemed Indian Institutes of Technology (IITs) to be a part of our IIT coaching program at Green City EM School. Under the guidance of Dr. Emandi Sankara Rao (Dr ESR www.sankararao.com ), our coaching program offers effective training, personalised attention, and expert guidance to ensure that students are well-prepared for the IIT entrance examinations. With our comprehensive approach, we aim to help students excel academically and achieve their aspirations in the field of engineering.
Welcome to Green City EM School Class Rooms Infrastructure
At Green City EM School, we believe in providing our students with a nurturing and innovative learning environment. Our spacious classrooms are designed to inspire curiosity, foster academic excellence, and promote holistic development to students for an exciting educational journey.
Features of Our School Class Rooms:
Our classrooms are spacious providing students with ample room to learn and grow. The bright and welcoming atmosphere encourages active participation and a sense of belonging, making students feel comfortable and ready to engage in their studies.
Integrated Technology:
We recognize the importance of technology in today's world. We have designated classrooms at Green City EM School equipped with cutting-edge technology, including interactive smart boards, projectors, audiovisual aids and high-speed internet access. Our teachers leverage these technological tools and facilities to create interactive and engaging lessons, enhancing students' learning experiences.
Collaborative Learning Spaces:
Collaboration is an essential skill for the 21st century. In this regard Green City English Medium had created an "Ideation Hall" for our students, teachers and outside experts to discuss and learn new ideas and innovations to facilitate collaboration among students and teachers. Flexible seating arrangements and designated group work areas encourage teamwork, discussion, and the exchange of ideas. Through collaborative projects and activities, students and teachers develop design thinking, communication, and problem-solving skills.
Resource-Rich Print & Digital Environments:
Green City School has rich educational resources of a wide range of books and other digital content in our Library and Digital Centre. Students and teachers have access to a diverse collection of books, reference materials, and digital resources to support their learning. These resources cater to different learning styles and enable students to develop deeper understanding of the subjects and expand their knowledge and develop a lifelong love for learning.
Engaging Visual Displays:
We believe that a visually stimulating environment sparks creativity and curiosity. Our classrooms feature captivating displays of student work, educational posters, and visual aids related to the curriculum. These displays showcase students' achievements, foster a sense of pride, and inspire others to strive for excellence.
Safety and Security:
The well-being of our students is our top priority. Our school environment adhere to strict safety standards, including fire safety measures, emergency exits and surveillance systems. Trained teaching and non-staff members ensure a safe and secure learning environment to the students.
At Green City EM School, we understand that learning happens beyond the four walls of a classroom. Our students benefit from experiential learning, field trips, and outdoor activities that complement their classroom instructions. By connecting classroom learning with real-world experiences, we empower our students to become an all rounder individuals ready to face the challenges of the future.
Come and discover the dynamic learning environment at our Green City EM School. Our holistic teaching and training are the foundations for educational growth, fostering a passion for knowledge, and preparing students for success in all aspects of life. Join us in this remarkable educational journey.